**WELCOME BACK SABRES**
Picture Day Info!

SENIORS- LAST CHANCE TO SIGN UP FOR SENIOR PHOTO RETAKES IS NEXT FRIDAY, OCT 12TH!!!
You have two options if you missed getting your senior photo taken this summer:

1. Call LifeTouch directly and have your pictures done at their studios on a Saturday (704-628-4600).

2. Yearbook photos will be taken

on campus in the auditorium on Monday, November 5th and Tuesday, November 6th.

These will be the last two days to have your photo taken to make it into the yearbook.

No personalized photos or Cap/Gown photos will be taken during these two days due to the amount of students that still need to have their photo taken.

Only tux/drape photos for the yearbook will be taken at this time.

Passes will be given out

during 1st block starting Tuesday, October 16th.

If you do not get a pass, you need to come to Ms. Aglialoro's room during 3rd block (O-1105).

9th, 10th, and 11th grade students:

Retakes will be Wednesday, November 7th. Anyone that has not had their photo taken can do so at the following times:

1st Block: 7:30-8:30 A-F

Enrichment: Walk-in's
2nd Block: 9:30-10:30 G-N
3rd Block:

10:50-12:44 O-T

​Walk-in's are welcome during lunch time

4th Block: 1

:00-2:00 U-Z

Where Can You Get Yearbook Updates???

Website- *You're there!*
Instagram and Twitter- @SOMECKA
Bulletin board- F-Building Cafeteria
Naviance emails- *make sure your email address is up-to-date*
​Homeroom- announcements on SMTV too!
E-mail the staff: yearbooksouthmeck@gmail.com
E-mail the adviser: deenal.aglialoro@cms.k12.nc.us

Senior Retake Sign Up is OVER! If you still need to have your yearbook picture taken and you have NOT made an appointment for the makeup days, please see Ms. Aglialoro in O-1105 Thank you.

Click the image below to order your yearbook (left), or order your senior tribute ad (right).

---
**SENIOR PORTRAIT ANNOUNCEMENT**
LifeTouch (Prestige Portraits) has issued the following message to anyone who has received proofs back for senior portraits:
"In order to go online and select your portraits, go to
www.shop.prestigeportraits.com
and create an account. From there you should be able to select your yearbook portrait as well as order if you wish. All images should be available for you to pick the pose that you wish, however, as per yearbook guidelines,
a formal portrait with a blue background is required for the yearbook. No other portrait will be accepted.
If for some reason you cannot select on the website, please call the customer service number so that someone may assist you. Make sure you have the proof number you wish to use. The customer service line is 1-800-736-4775. Thank you so much."
Powered by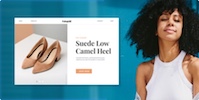 Create your own unique website with customizable templates.